Red Lands takes place in a colorful world where the grass is red, the wood blue and the stone yellow. These lands are still largely unexplored and only populated by cats in some small tows connected by railroads. Despite its cute appearance, the nature there is harsh and filled with dangerous animals.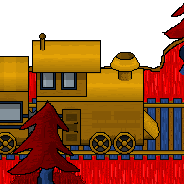 Lieutenant Cosh is in charge of building a new railroad to connect two distant towns separated by a particularly wild region scattered with crumbling ruins left by ancient peoples. He will have to explore forests, caves and dungeons, collect resources and build towns.

Red Lands is a classic RPG in a colorful world with a country/bluegrass music atmosphere, and with some flavors of city builder genre.