Finally, a tactical RPG that has NO RNG to Hit, Miss, or Crit!
When you attack, use an item, cast a spell, or defend yourself, you'll face a Ring Trial. Click when the indicator is in the Blue Zone to succeed. Click when the indicator is in the Red Zone for a critical success! But, of course, try not to miss...
A living battlefield to change as you please!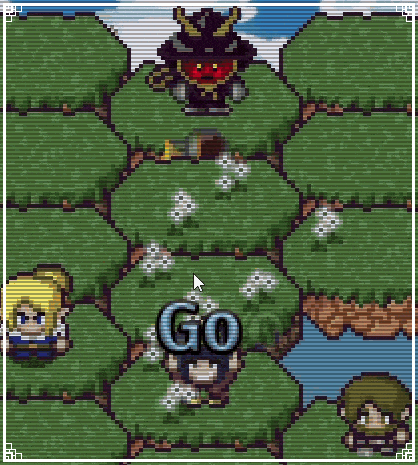 Terrain has a massive impact on battles. Fortunately, you can change it freely with your magic! Just beware... your foes can do the same!
A story that changes based on how you fight!
Actions speak louder than words. There's no dialogue trees of conveniently delineated options for you here... how your characters interact depends on how you fight. Story scenes branch frequently, and early game events are built upon later. Your decisions (and your skill) will determine your party's fate—in more ways than one!
The party that never stops!
When the new king sent princess Sahana to the far-flung hinterlands of the kingdom via a "political marriage" to a provincial governor, she didn't expect a warm welcome. And that's great, because she didn't get one!
Her reluctant husband, Kadi, treats her well but mostly avoids her. He spends his days doing "research" in the woods. Vexingly, that research seems to involve a beautiful mercenary named Celestora—who says she wants Kadi dead, but spends all her time with him anyway. Hana's "exile" isn't the worst, but she has had about enough of this little situation...
Join this band of misfits as they journey into the wilds, both to quell monsters that trouble the province and for Kadi's... "research."