🚀 Unleash the Power of Stylized Velocity
Immerse yourself in a mesmerizing visual spectacle with our stunning stylized art. Witness the seamless fusion of breathtaking speed and captivating aesthetics as cosmic wonders and futuristic landscapes come alive before your eyes. Brace yourself for a racing experience like no other!
🎮 Arcade Controls and Electrifying Mechanics
Experience the thrill of lightning-fast, ultra-responsive controls that put you in total command. Feel the adrenaline surge through your veins as you effortlessly navigate hairpin turns, execute mind-blowing drifts, and outmaneuver your rivals with precision and finesse. Prepare for the ultimate arcade racing sensation!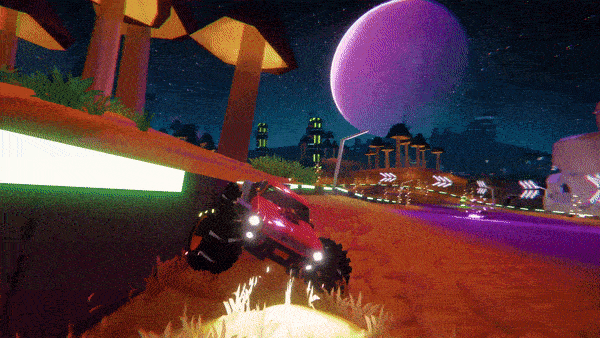 🎵 Synthwave Soundtracks and Visuals
Immerse yourself in the nostalgic embrace of our electrifying synthwave soundtracks inspired by the iconic film and video game scores of the 1980s. Let the pulsating beats and captivating melodies transport you to a neon-lit era of retro-futuristic racing magic. This is the soundtrack of your cosmic triumph!
🚗 Iconic Cars of Cosmic Nostalgia
Indulge in the ultimate automotive nostalgia with our collection of over 20 unique vehicles inspired by the popular real cars of the early '80s to late '90s. Car enthusiasts will revel in the opportunity to race in their favorite classic rides, each meticulously crafted to evoke a sense of cosmic nostalgia. Get ready to relive the glory days of iconic automotive legends!

💥 Unleash Unique Special Abilities
Harness the extraordinary powers of each vehicle's special ability to gain the upper hand on the race track. Launch shockwaves that send rival cars soaring through the air, take to the skies with gravity-defying jumps and glides or morph into an agile RC car to effortlessly dodge obstacles and enemy attacks. Strategically wield these abilities to secure your dominance!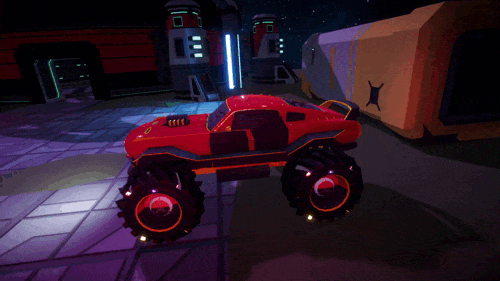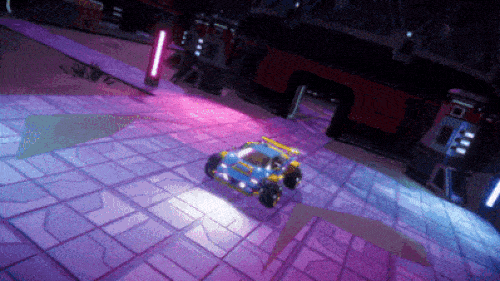 🔧 Customize, Upgrade, Dominate
Unleash your creativity and transform your vehicles into personalized masterpieces. Dive into a vast range of customization options, including wheels, body kits, spoilers, paint jobs, NOS trails, and more. Upgrade your vehicle's performance with a comprehensive selection of enhancements, from body frames and engines to steering systems, suspensions, tires, and NOS capacity. Craft the perfect racing machine and leave your competitors in cosmic dust!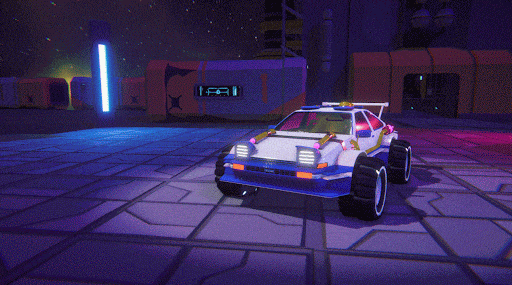 💥 Intense Combat Racing
Prepare for heart-pounding wheel-to-wheel combat where destruction and obstruction are the keys to victory. Utilize interactive terrain elements to block paths, create diversions, and unleash explosive surprises on your opponents. Deploy powerful abilities such as grenades, black holes, and mines to outwit and outpace your rivals. This is combat racing at its finest!
🌌 Interactive Environments
Brace yourself for dynamic, ever-changing race tracks that push your skills to the limit. Experience path-changing calamities and interact with various elements on the track to obstruct your opponents. Adapt to the evolving cosmic landscapes and seize every opportunity to gain an edge over your rivals. Every lap will be a thrilling test of skill and strategy!
🌟 Diverse Game Modes for Cosmic Triumph
Engage in a captivating array of game modes designed to challenge and exhilarate you. From high-speed circuit races and explosive time bomb challenges to pulse-pounding sprint battles and epic showdowns against hordes of alien invaders, each mode offers a unique and adrenaline-fueled experience. Prepare for the ultimate cosmic triumph!
🌍 Multiplayer Mayhem
Join the online racing community in our exhilarating multiplayer Series mode. Compete against racers from around the globe in teams of various sizes, earning points and money based on your performance. Upgrade your cars, dominate the leaderboards, and strive to become the ultimate Cosmic Racing Series Champions. This is where legends are made!
Cosmic Race: Galactic Showdown is not just a game; it's an interstellar revolution. Join the cosmic spectacle, ignite your afterburners, and pave your way to cosmic glory. Will you rise to the challenge, conquer the cosmos, and become the unrivaled Cosmic Champion?