Game - clicker, you have to assemble a pancake in a pan from different ingredients and by clicking on the filling add it to the pancake. Drag and drop items into the pan, sell pancakes, unlock new ingredients, different batter, enhancements. Don't let Baba Yegi ruin Pancake Week
1) There are ingredients on the level that you have to drag into the pot. Drag into the pot: eggs, oil, water in a bucket, flour in a bag, and dough (on water). (The name of the items is shown in the lower left corner.)
2) If everything is correct, all the ingredients on the pan will light up and a pancake will appear on the pan. Press the filling to place it on top of the batter.
3) The batter and filling are already in the pan! Now just press the clock, wait and get the envelope pancake. And, of course, sell it to the customer.
4) Buy up items in the store to pump up your skills.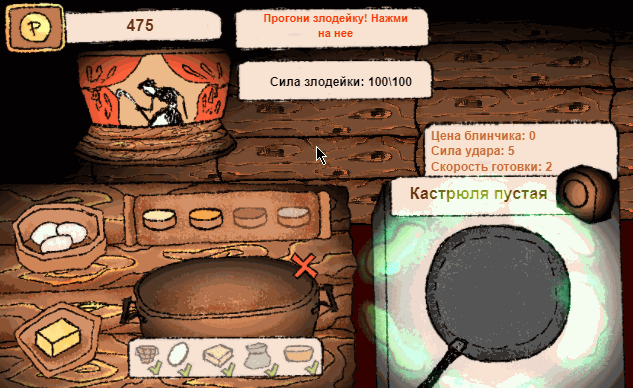 5) And then there's Baba Yaga, she also opened her hut for Shrovetide, but since everyone is coming to us, she comes to spoil the ingredients. Just call her out to make her go away!